Uncategorized
now browsing by category
The yoga strap is a wonderful prop to add to your yoga practice. Using a yoga strap is not just for beginners, although beginners certainly get the most benefits. There are many reasons to use a yoga strap:
It can enhance your experience of the pose, allowing you to worry less about achieving that "perfect pose".
It can make it safer and more accessible to you.
If you have restrictions or tightness, a yoga strap can help a lot.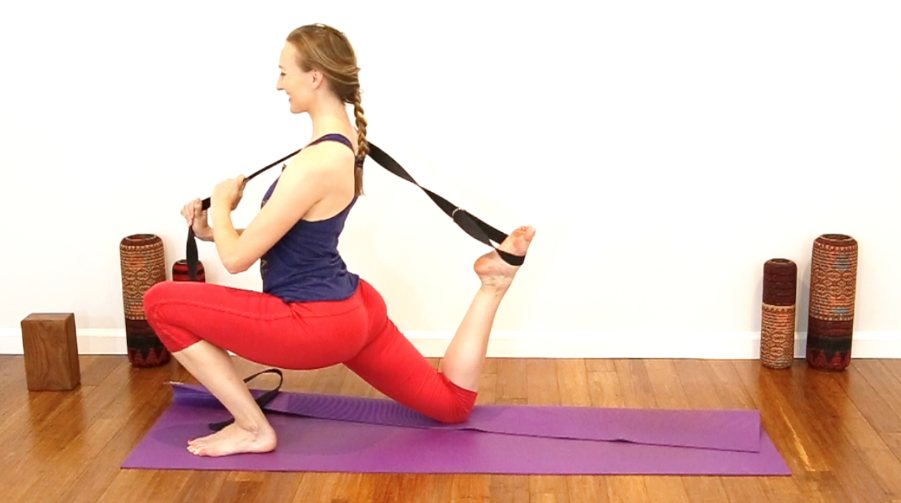 You can find a yoga strap at stores like Target, Lululemon, Walmart, and other online-only stores Amazon and the Yoga Outlet store. They are usually pretty affordable. Alternatively, you can use a belt or towel, the downside is that these options won't be as comfortable or as long as a yoga strap.
The straps are usually:
about 1.5 inches
6 feet in length or longer
made of cotton fabric, making them durable and machine washable
have either metal D-rings or a plastic buckle (to make loops)
Ways to Use and the Benefits of Using a Yoga Strap
1. Extension Tool
To create "longer arms" to hold yoga poses, for instance, forward bending stretch poses on the floor. Wrap the strap around the arch of the foot or use a strap loop when keeping one leg extended and the other bent.
2. Measure and Activate Certain Muscles
For example, in a forearm plank when you have your forearms parallel to each other, use a loop around your forearms (no wider than shoulder-distance apart). This keeps your hands from accidentally creeping in or turning out. So with a strap, make the loop the length of shoulders. Make sure it's tight because you are going to actively pull your arms away from each other to maintain that shoulder-distance measurement.
3. Modification Tool
Use a yoga strap in your intermediate-advanced poses like Extended Hand to Big Toe Pose. Use a strap, a loop if you like, around the arch of your foot and extend the leg. This helps you keep your back straight during the pose and gain more flexibility in the hamstrings!
To modify a pose, if you are pregnant for example, you add a strap to cover the area where you would have previously folded tightly in half. In boat pose, for example, you can wrap the strap.
4. Maintain Alignment
You can maintain correct alignment while still doing with the help of the strap stretch poses.
5. Make Loops
Loops with the strap allow you to hold with only one arm. Try Dancer's Pose with a strap loop around the arch of the foot.
6. For Reclining Poses
You in performing reclining poses requiring flexibility like pigeon pose on your back.
7. Binding Tool
To perform yoga binds, when you bind the arms around you in a pose, often an advanced yoga pose with many health and spiritual benefits. For example, in Bird's of Paradise Pose you can replace the handclasp in the leg bind by clasping a strap.
8. Shoulder Tool
Great to stretch the shoulders, chest, testing and increasing your shoulder mobility. Instead of clasping your hands in a pose, hold the strap. This helps you keep length in your spine and safely stretch the arms. For example, hold the strap with both hands and stretch overhead. Also, try stretching side to side with this hand position to get a different arm sensation.
As you can see a yoga strap is a great tool to keep you safe, flexible, and smart when doing yoga! Get one to match a pair of cute yoga leggings and start practicing.